Shop

Current Featured Products
PlaybookSports VIP Memberships
Membership Has It's Advantages!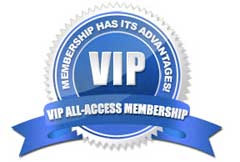 ALL-ACCESS MEMBERSHIP AT DISCOUNT PRICES
MEMBERSHIP HAS ITS PRIVILEGES
SAVE 20% ON ALL PURCHASES ON THE SPOT!
Get 30 days of Playbook VIP membership for only $59 and automatically receive 20% off on any purchase you make through the Playbook Store (Tokens excluded)



ONE-TIME 50% OFF SPECIAL LIMITED OFFER!
Sign up today for a six-month VIP ALL-ACCESS MEMBERSHIP for $149 and for a
limited time get an EXTRA SIX-MONTH VIP MEMBERSHIP FREE OF CHARGE!

That's a $50 savings on the spot - and best of all you're covered for a full year of
extra perks and 20% discounts.

Click here to register or call toll free for fast, friendly customer service.
All major credit cards accepted for instant service.



1.800.PLAYBOOK  • That's 1.800.752.9266
VIP ALL-ACCESS MEMBERSHIP
Advantages and Benefits
Q - What is a VIP ALL-ACCESS MEMBERSHIP?
A - Benefits include automatic 20% savings on the spot on all Playbook publications and services. In addition, VIP Members also receive added bonuses, such as Marc's Friday Super Pick Plays and instant access to daily Free Picks from all Playbook Experts. Plus, unannounced added bonuses are available each month. Click here now to enjoy the great savings and benefits of becoming a VIP Member today.
Q - What does it cost for a VIP ALL-ACCESS MEMBERSHIP?
A - You can take your choice of an investment in a PLAYBOOK ALL ACCESS MEMBERSHIP. You choose the length of time. Fees range from $59 per month (30 days), to $149 for a six-month membership . The choice is yours. You earn the savings and all the advantages.
Q - How do I join?
A – It's real easy. Click on the ORDER NOW buttons above. Or, if you choose, you can call our Customer Service Department for fast, friendly no-obligation help at 1.800.PLAYBOOK - that's 1.800.752.9266.
If all this sounds good to you then sign up for a PLAYBOOK MVP ALL-ACCESS MEMBERSHIP now and begin saving today.
Copyright © 2022 © Playbook® Enterprises Inc.
Contact Support:  1-954-377-8000 All Logos © to their respective organizations. This website does not endorse or encourage illegal gambling. All information contained herein is for amusement purposes only. Any contrary of such information is specifically prohibited.