Shop

Current Featured Products

ADVANTAGE: YOU!
The PLAYBOOK ADVANTAGE is back this spring and summer and best of all it's free
to anyone registered to PLAYBOOKSPORTS.COM
To download this month its simply on the LOG-IN link atop this page.
If you're not a member, fill out the REGISTER NOW information below. There is no fee to register and no fee to download your monthly issue of the PLAYBOOK ADVANTAGE!
Question or comments? Click here for support of call 954.377.8000.
Enjoy this month's PLAYBOOK ADVANTAGE and remember, when you do it's ADVANTAGE YOU!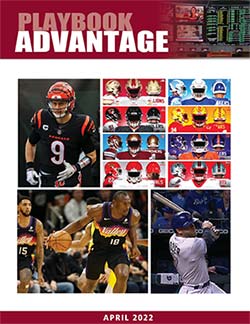 Click HERE to register to the PLAYBOOK.COM site and recieve this
valuable information every week throughout the season for FREE!


Copyright © 2022 © Playbook® Enterprises Inc.
Contact Support:  1-954-377-8000 All Logos © to their respective organizations.
This website does not endorse or encourage illegal gambling. All information contained herein is for amusement purposes only.
Any contrary of such information is specifically prohibited.