Shop

Current Featured Products

A NEW WAY TO START
YOUR SPORTS DAY.
EVERYDAY.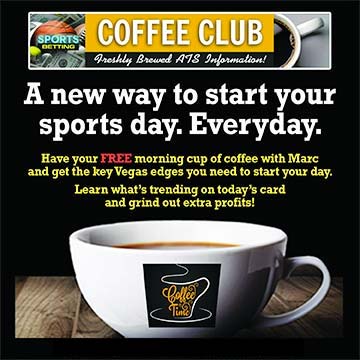 As a registered member at PlaybookSports.com you can now begin your
day with a FREE morning cup of freshly brewed coffee filled with winning
insight everyday with Marc Lawrence!

Best of all it's complimentary to all PlaybookSports.com registered members.

Look for it in your inbox bright and early each morning and get his thoughts
on the sporting card each day.

- IMPORTANT -

If you are already a registered member of the PlaybookSports.com site there is nothing to do.
You will automatically receive your daily Coffee Club each morning in your inbox!

- IF YOU ARE NOT A MEMBER AT PLAYBOOKSPORTS.COM -

If you are a visitor to our site and are NOT a registered member simply register below and you are
automatically enrolled in the daily Coffee Club with no obligation whatsoever.

REGISTER HERE

Below is a sample of the daily Coffee Club. Enjoy the brew!


Copyright © 2021 © Playbook® Enterprises Inc.
Contact Support:  1-954-377-8000 All Logos © to their respective organizations. This website does not endorse or encourage illegal gambling. All information contained herein is for amusement purposes only. Any contrary of such information is specifically prohibited.