Shop

Current Featured Products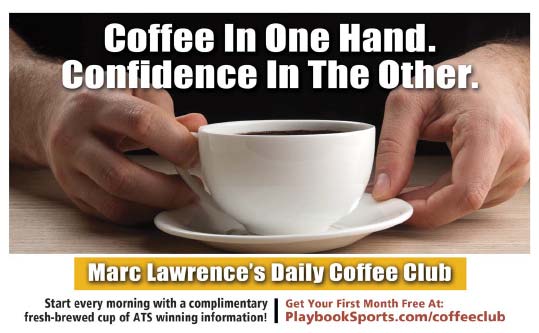 WHAT'S BREWING TODAY


Coffee Club • Everyday • 7 Days A Week




A Daily Wake Up Call


Smell The Winning Information



Forget Starbucks


Wake Up Your Senses


Better Yet Get It Free


Membership Has Its Privileges
Start each and every morning with Marc's fresh-brewed cup of ATS winning information as a member of the daily Coffee Club.

This daily quick-read is delivered in your in-box to view along with you first cup
of coffee each morning.

Learn of new handicapping edges, along with Marc's take on the card, each day.


Best of all it's only $10 per month - or
just $.30 cents a day for daily insider information from the nation's most respected and honored professional handicapper with over 40 years of
insight and experience.

CLICK HERE to sign-up and have your
morning cup of coffee delivered into
your in-box each day with Marc.

All members PlaybookSports.com get a free30 Day membership to the Coffee Club. REGISTER HERE to have your morning cup of coffee with Marc delivered into your in-box each day.

Or its free with a paid subscription to any of the Playbook publications or Marc's Executive services for the life of the subscription.


Coffee In One Hand. Confidence In The Other. The Coffee Club Way.
Playbook ® and Marc Lawrence's Preferred Picks ® are registered trademarks of Preferred Picks Publications Inc.
Copyright © 2023© Playbook® Enterprises Inc.
Contact Support:  1-954-377-8000
This website does not endorse or encourage illegal gambling. All information contained herein is for amusement purposes only.
Any contrary of such information is specifically prohibited.